The Lagos State Police Command has arrested a driver, Abass Ope, for allegedly stealing his former boss' car, television sets and dog in the Magodo, Ketu area of the state.
Ope, who hails from Ogun State, was said to have sneaked into his boss' home while the latter was away with his family members on a Christmas holiday in Delta State.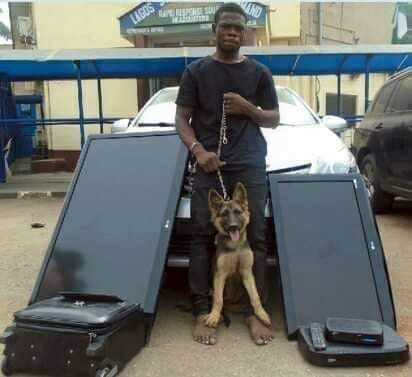 Together with three other accomplices, the suspect was alleged to have made away with a Toyota Avensis, 2013 model, a 100-inch LCD television, a 42-inch LCD TV, a dog, a suitcase and two DSTV decoders.
The victim, Ekinodo Ifoghale, upon getting a report of the incident, cut short his Yuletide trip and returned to Lagos.
He was said to have reported the case to policemen at the Magodo division.
The suspect was said to have been rounded up by a decoy team of the Rapid Response Squad in the Ojuelegba area on December 26, 2016.
A police source said the suspect was about to sell the Toyota Avensis for N2m when he was apprehended.
He said, "The suspect stopped working for his boss in August 2016. While the man was away for Christmas with his family, he sneaked into the house at a time he knew the gatekeeper would have gone to church.
"Since he knew where his boss normally kept keys to the rooms, the job was easier for him. He and his gang left with the man's car, two TVs, two decoders, a suitcase and a dog.
"The former boss, on learning of what happened, called him to ask if he knew anything about it, but he denied.
"The police, who got the information of the theft, tracked the Toyota Avensis to Ojuelegba. He was picked up while trying to sell the car for N2m."
Ope, in his statement to the police, allegedly confessed to the crime, adding that he stole the items because Ifoghale owed him eight months' salaries.
He said he committed the crime to raise funds with which he would celebrate Christmas with his family members.
He said, "It has been four months since I left my former boss. I worked for him for four years before quitting in August 2016. I left because things were tough for him. I also left so that he could sort himself out. While things were tough for him, he owed me eight months' salaries. This prompted me to take his property and the vehicle.
"I took the car because I had no money to take care of myself and my younger ones. They had no clothes and no shoes for Christmas. They looked up to me to take care of the expenses.
"The auto dealer wanted to pay N2m for the car, but I insisted on N4m because I knew it was worth more than that. He offered me N1m instantly and said the balance would be ready in a few minutes. But I decided to ignore the offer, hoping that he would call me back for a re-negotiation.
"I went back to Ojuelegba a few hours later in company with three of my friends; that was when the RRS operatives arrested us. My former boss was nice to me. He enrolled me in a university, but I dropped out after I left him."
The complainant, Ifoghale, in his statement to the police, denied owing Ope any salary.
He said, "I am in shock. This was a guy I treated like a son. Aside from my wife, he was the closest person to me. He did my shopping for me. How can I owe him eight months' salaries when he never worked for me during the period? He was never in my house during the period that he claimed.
"I called him more than twice when I got the report that my house was burgled. He told me he knew nothing about it. If he had told me that he needed money, I would have given him because we were still close even after he stopped working for me."
The Lagos State Police Public Relations Officer, SP Dolapo Badmos, advised members of the public to always run a background check on their domestic helps to avoid falling prey to criminals.
She said Ope and the other suspects had been transferred to the State Criminal Investigation and Intelligence Department, Yaba, for further investigation.