Thousands of Liverpool fans gathered at Anfield to celebrate the club's first Premier League title.
Supporters set off flares and fireworks after Chelsea's 2-1 win against Manchester City gave the Reds their first league title in 30 years.
Within half an hour of the result, about 2,000 fans had gathered outside the stadium with some celebrating above the players' entrance.
No attempts were made to disperse the crowd by police officers at the ground.
Merseyside Police closed roads around Anfield at 23:00 BST and advised motorists to avoid the area.
Assistant Chief Constable Rob Carden said "a large number of people chose to gather outside the stadium" but said it was mostly "good natured".
He praised the "overwhelming majority" of fans that "recognised now is not the time to gather together to celebrate, and chose to mark the event safely".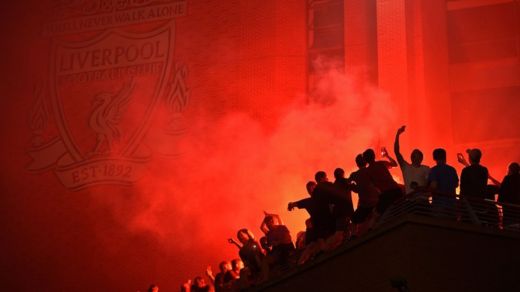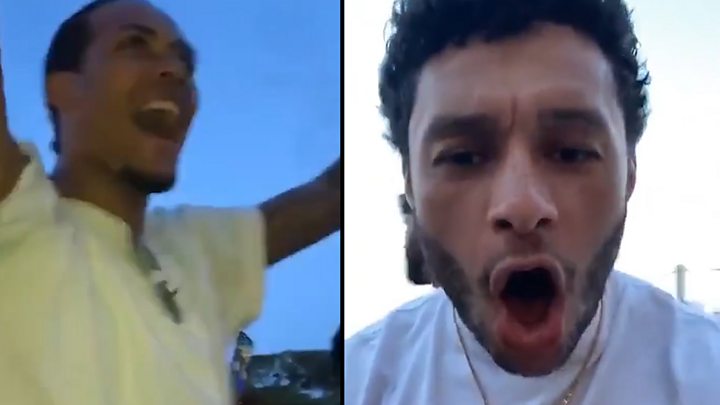 It is Liverpool's 19th top-flight title and their first since 1989-90, when Sir Kenny Dalglish led them to victory.
Jurgen Klopp's side needed one victory to seal the league but City's failure to win means they cannot be caught.
A number of Reds players, including goalkeeper Alisson, defender Virgil van Dijk and midfielder Alex Oxlade-Chamberlain, celebrated together after watching the Chelsea-City game.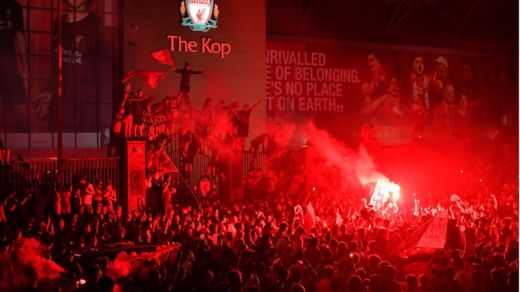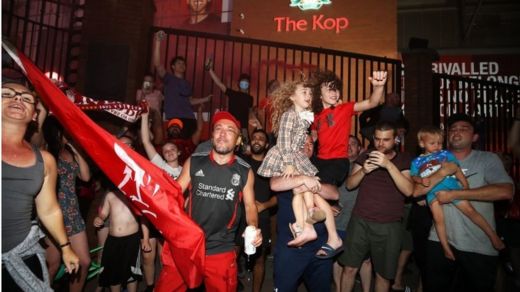 Thousands more fans gathered outside the club's famous Kop stand throughout the night, with some climbing on walls, bins and the roof of a merchandise stand.
Supporters danced, set off flares and waved flags while singing the name of Liverpool players including Mo Salah and captain Jordan Henderson.
Many fans were seen hugging and one man stood with his arm around a cardboard cut-out of manager Jurgen Klopp.
As well as gathering at Anfield, fans also filled Liverpool city centre where they joined together to sing the club's famous anthem You'll Never Walk Alone.
End of Twitter post by @BBCNWT
Many of the fans that congregated wore face masks and cars also gathered outside Anfield, with some beeping horns as they passed.
Six-year-old Anthony Nesbitt went to the ground with his father Anthony and mother Marilyn, as well as a cardboard cut-out of Liverpool star Sadio Mane.
"This is amazing, especially for them. We've been waiting 30 years for it," Ms Nesbitt said.
An emotional Charlie Cooper, 48, who watched it at his home in Halewood said he remembered the last time Liverpool won the top-flight league.
"To finally do it is a relief more than anything," he told the BBC's Nick Garnett.
Another ecstatic fan David Taylor, 65, added: "It is amazing. We've done it now."
He said he was "more delighted" for the younger generation, like his granddaughter who had never seen the club lift a league title.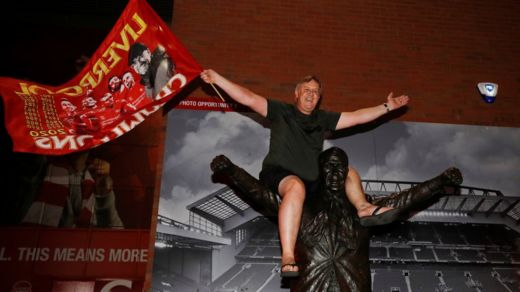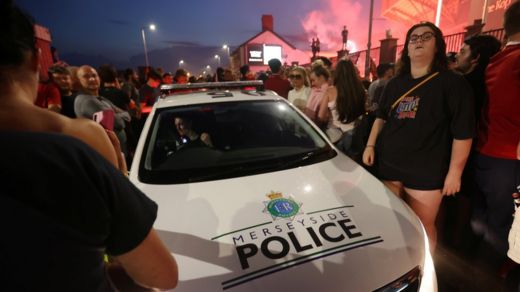 Earlier on Thursday, fans were urged by the city's metro mayor Steve Rotheram to be the "best 'stay at home' fans in the world" to prevent the spread of coronavirus.
Liverpool City Council told fans to "have a great party" but maintain social distancing as they celebrated.
Several celebrities, including comedian John Bishop and basketball star LeBron James, also tweeted about the title win.
BBC